Film Crew and Behind the Scenes Guide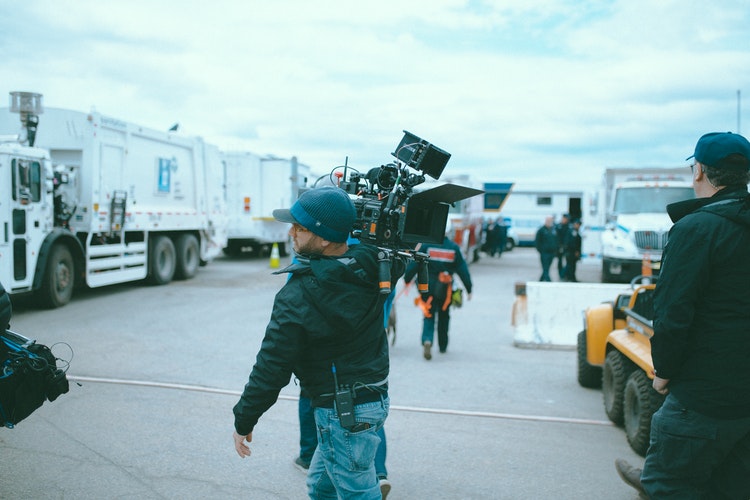 PROJECT DETAILS
Title: Film Crew and Behind the Scenes Guide
Description
When working on set it can be overwhelming with the amount if people it takes to actually put on a production. Lots of separate departments are all working together as one unit.
Your crew is responsible of setting up and filming the footage, making sure it's lit correctly, the sound, focus, movement, continuation, direction is all correct and the footage is of course usable. I've been on shoots where there have been camera errors and we have had to go back to re-shoot scenes, which is an expense to the production company.
Each job is different, crew on a video, commercial or film will be different to TV live events or stage shows' crews. You can really see how big the crew is at lunch time, as that queue can be pretty long.
I have a little guide to help you with crew and behind the scenes titles whilst on set.
This is just a simple guide and very general so if you are in a specific department please don't be offended if you're key title is not included this is just a guide to help performers who are new to being on set.
Now I have my disclaimer out the way, feel free to see the different crew members on a shoot you are going to or have been on.
If you want more information detailed on film crews, check out the Crew and Behind the scenes Resource guide.
This is just a guide on the titles.
Happy shooting!
Behind the scenes
1. Animal Department
• Animal Agent
• Animal Handler
• Animal Owner
• Animal Trainer
2. Artist
• Clay Artist
• Graffiti Artist
• Graphic Artist
• Painter
• Sketch Artist
3. Art Department
• Art Director
• Art Department Coordinator
• Assistant Art Director (First Assistant, Second, Third)
• Draughtsman (Set Designer)
• Model Maker
• Leadman
• Production Designer
• Set Decorator
• Standby Art Director
• Storyboard Artist
4. Assistant
5. Camera Department
• Camera Operator
• Camera Production Assistant
• Data Wrangler
• Digital Imaging Technician
• Director of Photography/Cinematographer (DOP/DP)
• Documentary Videographer
• Film Loader
• First Assistant Camera Operator
• Second Assistant Camera Operator (Clapper loader)
• Steadicam Operator
• Still Photographer
• Video Split/Assist Operator
6. Chaperone
7. Costume and Wardrobe Department
• Art Finisher
• Buyer
• Costume Designer
• Costume Hire
• Cutter
• Designer
• Dresser
• Personal Shopper
• Seamstress
• Set Costumers
• Wardrobe Supervisor
8. Creative Department
• Associate Creative
• Choreographer
• Creative Director
• Flight Coordinator
• Movement Director
• Stunt Coordinator
9. Crew
10. Director
11. Electrical Department
• Best Boy (Electrical)
• Electrician
• Gaffer
• Genny Operator
12. Food Department
• Assistant Chef
• Baker
• Cake Designer
• Caterer
• Chef
• Craft Services
• Food Catering
• Food Stylist
13. Grip Department
• Key Grip
• Best Boy (Grip)
• Dolly Grip
• Grip or Rigger
14. Hair Department
• Colour Specialist
• Hair Stylist
• Key Hair
• Wig Fitter
• Wig Maker
• Wig Hirer
15. Interactive Media
• Account Manager
• Content Strategist
• Designer
• Developer
• Information Architect
• Producer
• Programmer
• Production Assistant
• Project Manager
• Studio Manager
• Usability Specialist
• Web Editor
16. Intern
17. Language Specialist
• Language Teacher
• Language Translator
18. Lighting Department
• Best Boy (Lighting)
• Gaffer
• Lighting Technicians
19. Locations Department
• Assistant Location Manager
• Location Assistant
• Location Manager
• Location Production Assistant
• Location Scout
20. Makeup and Beauty Department
• Beauty Therapist
• Body Artist
• Henna Artist
• Key Make-up Artist
• Make Up Artist
• Nail Technician
• Special Effects Make-up SFX
• Tattoo Artist
21. Marketing and Advertising Department
• Distributor
• Marketing Manager
• SEO Specialist
• Showreel Specialist
22. Medical Department
• Medic
• Unit Nurse
23. Office Admin
24. Personal Assistant
25. Photography Department
• Dark Room Technician
• Digital Imaging Specialist
• Image Sales Executive
• Laboratory Manager
• Machine Print Operator
• Photographer
• Photographer Assistant
• Picture Library Assistant
• Picture Library Manager
• Picture Researcher
• Print Finishing Technician
26. Post Production Department
• Assistant Editor
• Chyron operator
• Colorist – this is the same with Color timer
• Editor
• Negative Cutter
• Online Editor
• Post-production Supervisor
• Telecine Colorist
27. Production Department
• Casting Director
• Executive Producer
• Film Producer
• Director
• First Assistant Director
• Line Producer
• Production Accountant
• Production Assistant
• Production Coordinator
• Production Manager
• Production Runner
• Production Secretary
• Publicist
• Researcher
• Second Assistant Director
• Third Assistant Director
• Unit Manager
28. Researcher
29. Security Department
• Bodyguards
• Security Guards
30. Set Department
• Buyer
• Construction Coordinator/Construction Manager
• Greensmen
• Head Carpenter
• Illustrator
• Key Scenic
• Leadsman
• Production Designer
• Props Maker/Builder
• Props Master
• Set Decorator (Stylists)
• Set Dresser (Swing Gang)
• Standby Props
• Weapons Master
31. Sign Language
• Sign Language Translator
• Sign Language Teacher
32. Sound Department
• Boom Operator
• Composer
• Dialogue Editor
• Foley Artist
• Mixing Engineer
• Music Producer
• Music Supervisor
• Production Sound Mixer
• Re-recording Mixer
• Sound Assistant / playback
• Sound Designer
• Sound Editor
33. Special Effects
• Special Effects Coordinator/Supervisor
• Special Effects Foreman
• SFX Technicians
34. Technical Department
• Motion Control Technician/Operator
• Technical Director
• Technicians
• Web Masters
• Web Developers
35. Transport Department
• Chauffeur
• Driver
• Mini Bus Driver
• Picture Car Coordinator
• Transportation Captain
• Transportation Coordinator
• Truck Driver
36. Tour Manager
37. Visual Effects/Animation
• Compositor
• Concept Artist (Illustrator)
• Layout Artist
• Lead Compositor
• Matte Painter
• Match Move Artist
• Rotoscope Artists/Paint Artists
• Visual Effects Creative Director
• Visual Effects Editor
• Visual Effects Producer
• Visual Effects Runner
• Visual Effects Supervisor
38. Writing Department
• Article Writer
• Blogger
• Creative Writing Editor
• Journalist
• Press Release Writer
• Script Coordinator
• Script Editor
• Story Producer
• Scriptwriter
• Script Supervisor